APPS
Design, Development and Creation of Apps with Aldaniti Network
We specialize in developing mobile applications. We focus on the unique requirements of each project, which is why we can offer a completely personalized service. The growing demand for mobile devices has created a stronger bond between the company and customers.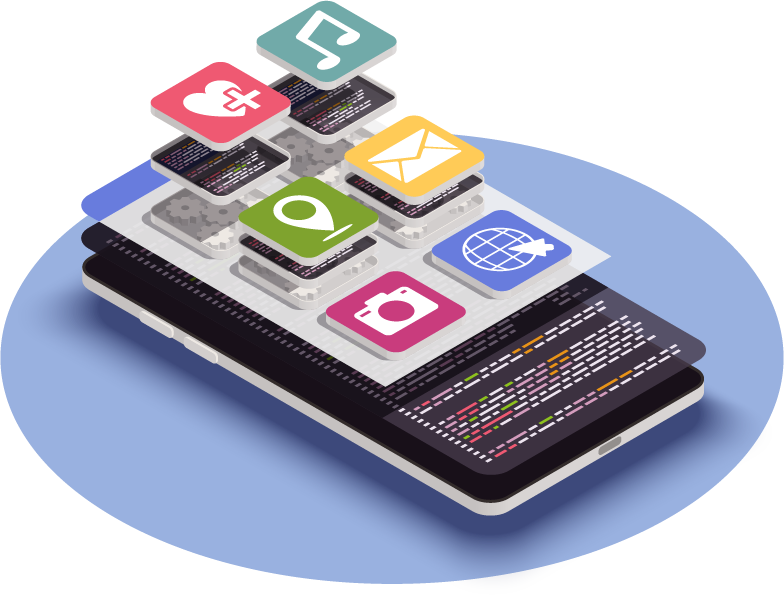 Advanced Technology in your App
Android Application Development:
We develop native Android applications, harnessing the full power of the Android operating system and the specific characteristics of each device. We have a perfect understanding of the latest Android platform and API packages, as well as Java and development tools like Android Studio. We assist you in designing, coding, and implementing your custom Android application on Google Play.

Advanced Technology Development
iOS Application Development
We develop native iOS applications for the complete range of Apple mobile devices. Beyond understanding the basics of the iOS environment, our team has experience in creating applications that incorporate specific native features such as Apple Pay and FaceTime. We require our developers to be experts in Swift and Objective-C, as well as iOS SDK, Xcode, and Cocoa Controls.

We are experts in Design, Development and the Creation of Mobile applications. We offer customized solutions that will take your business to the next level and effectively connect you with your audience.
Don't miss out on the opportunity to harness the potential of mobile applications to grow your business. Trust Aldaniti Network and discover how we can assist you with the design, development and creation of personalized mobile applications. Contact us today and take your business into the mobile world with success.

¿Why is the Design, Development and Creation of Apps important?
Mobile applications have become a fundamental tool for interacting with users and enhancing your brand presence. With a well-designed and functional application, you can offer your customers a unique experience, improve accessibility to your products or services and generate brand loyalty. Furthermore, to provide relevant and personalized content, mobile applications allow you to maximize the features of mobile devices, such as geolocation and push notifications.

Our Design, Development and Creation of Apps services include:
We create attractive and intuitive user interfaces tailored to your brand to deliver an exceptional user experience.
We implement custom functions that align with your specific needs and enhance the user experience in your application.
We adapt your application to function optimally on different mobile devices and operating systems.
We connect your application with external services and APIs to expand its capabilities and provide a more comprehensive experience.
We conduct comprehensive testing to ensure the performance, stability and security of your application before its launch.
We accompany you throughout the application launch process, provide ongoing support to ensure its proper functioning.

What is the APP Development process?
The APP development process generally includes the following stages: analysis and planning, user interface design, functionality development, testing and debugging and finally, its launching in the respective APP stores.
Which mobile platforms do your APP Development Services cover?
We offer APP development services for iOS (iPhone and iPad) and Android platforms.
How long does it take to develop an APP?
The time required to develop an APP can vary depending on complexity and required features. Generally, APP development can take from a few weeks to several months.